YOUR OUTDOOR POWER
EQUIPMENT SPECIALIST
FIND THE PERFECT GENERATOR FOR YOUR HOME, COTTAGE OR BUSINESS
EVERYTHING YOU NEED TO GET THE PROJECT DONE FAST!
We will be closed for the holidays and
returning to work Jan 2, 2023
This weeks Featured Product
YOUR LOCAL FAMILY BUSINESS SINCE 2005
WE ALWAYS WANTED TO OFFER OUR CLIENTS, THE BEST POSSIBLE OUTDOOR POWER EQUIPMENT SUPERSTORE
Since 2005,  Blais Sales & Service Inc. has been providing high-value sales & service on outdoor power equipment. Today, you can experience Michel and Joanne's well-established Outdoor Power Equipment Store in Vars Ontario. They offer an impressive list of more than 50 brands that they proudly represent and are authorized warranty repair centre. Michel and his team also acquired over time, a large replacement parts inventory.
Ultimately, in 2005, when they first established their business in Limoges Ontario, their primary focus was to serve the local community and offer superior client service in both official languages. Over time, their clientele grew from a few hundred local customers to a mix of landscapers, property managers, lawn maintenance and snow removal contractors, farmers, and large property owners.  With the introduction of GenXpert, which specializes  in generators, their customer base grew to include homes, cottage, commercial, industrial and residential apartment buildings, and retirement and nursing homes in both Ontario and Quebec. They also serve many local and regional municipalities with generator maintenance, emergency service and load testing. In 2017, a larger building was required and the business was relocated at its current location in the 417 Industrial Park, in Vars, Ontario.
As their business grew and expanded, so did their team. Eric, their son, joined the family business. Just like his father, Eric was natural at fixing outdoor power equipment and any other type of equipment.  He also brought with him, 10 years of experience as a snowplows operator where he learned to install, repair, and maintain all types of snow and ice equipment.  Since then, Blais Sales & Service has added a "Snow & Ice" department and a "Light Construction Equipment" category as well. While Eric was moving forward with his desire to serve this new clientele, Michel was able to devote more time and energy to generator sales, installation, maintenance and load testing. Meanwhile, Joanne Blais took over the day-to-day operation of their flourishing enterprise.
Today, Blais Sales & Service Inc. is a true Outdoor Power Equipment Superstore which supports over 12 employees and specialists.  This local family business continues building on its solid reputation for service excellence and its 9 equipment categories.  They hope to meet you all personally one day, as this is only the beginning for them. Their passion and drive keep them going strong and they will go the extra mile on everything they do.
Michel, Joanne & Eric
Blais Sales & Service Inc.

140 Clement St. 417 Industrial Park, Vars Ontario, K0A 3H0
GenXpert - Generator Superstore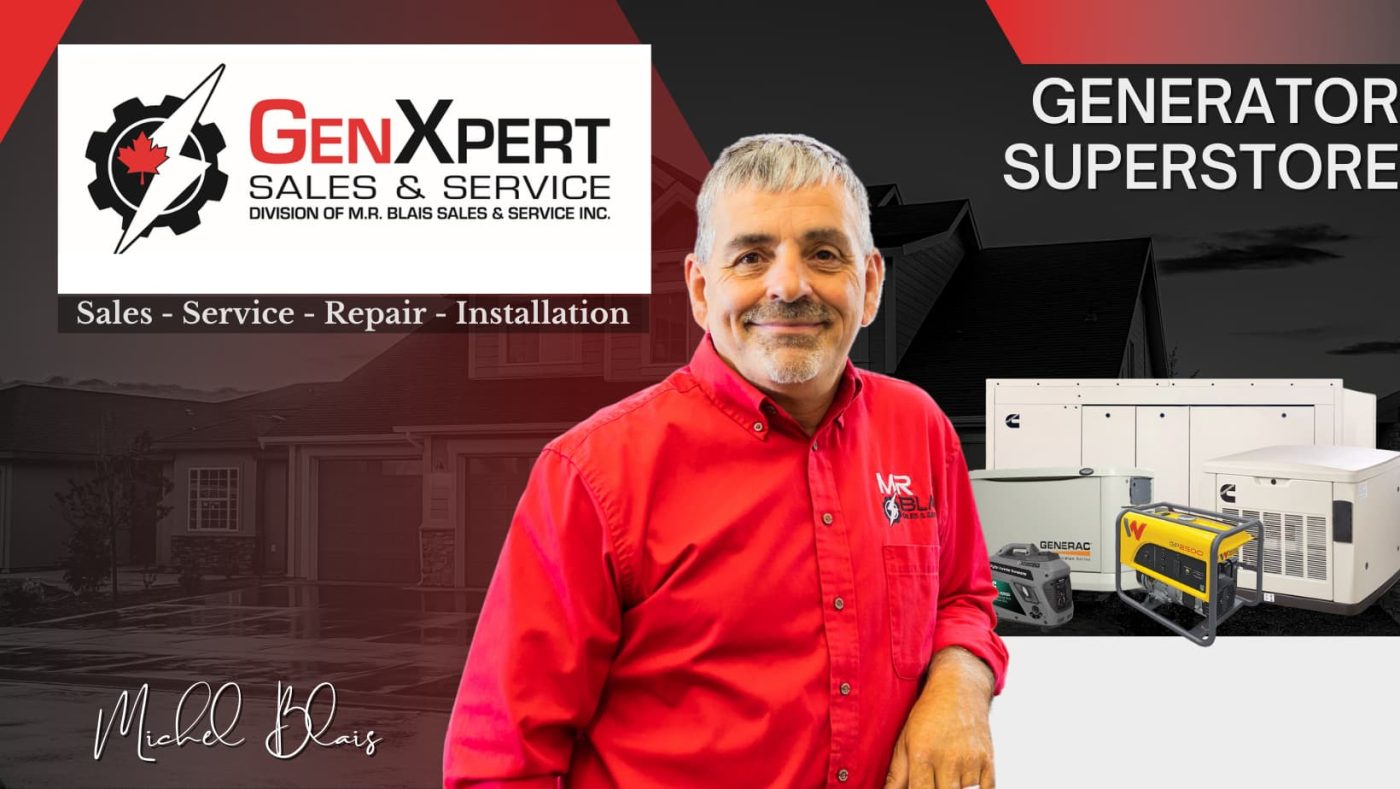 GenXpert is a true « One-Stop" Generator Superstore and proudly represents the industry's top generator brands.  Our goal is to answer all your questions and not only sell you a generator, but we to help and guide you in your purchasing process.  Buying a generator demands that you consider multiple factors, from the power calculation to the fuel type, the physical location of the unit and more. The installation process will include scheduling of utility disconnect and the  start-up and testing of the unit.  GenXpert will also stand by you and provide annual maintenance and is able to provide 7/24 emergency service after the installation is completed.
The most important factor you need to know before purchasing a generator, is that they are sold by "Power Output", as measured in "Watts".  A true generator specialist, like GenXpert, can help you select the best generator for your needs, and plan the installation with you.  We have been doing this for more than 10 years and we know the value and benefits of having our customers get peace of mind that comes from having a standby generator, whether for home or business.
M. R. Blais Sales & Service Inc. - BRANDS WE CARRY