If you prefer to finance your next purchase with us and keep your finance private and confidential, we have two great financial organizations to choose from that will respect your intention and business.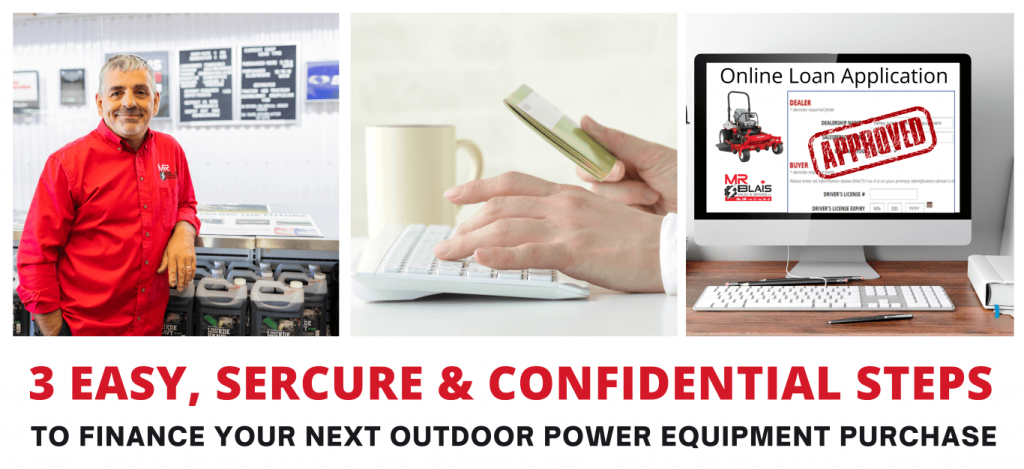 You now have two options to finance your new outdoor power equipment or generator without having to leave your desk or home. The great thing is that this approach is 100% confidential and even Blais Sales & Service Inc. or GenXpert will be advised if you have been approved or not.
1. Get a final quote of everything you need and want to purchase
2. Select Option 1 or Option 2 depending on your purchase type
3. Apply directly online and find out immediately if you are approved
Flexible financing plans are available.
Pick a plan that best suits your budget. Choose between equal monthly payments, deferred payments, or simply use it like a regular credit card.*
Apply now and use your Flexiti Card in-store or online anytime.
Think of your FlexitiCard as a credit card with the added benefit of financing. Plus, you won't need to apply every time you want to use it here, or anywhere in the Flexiti Network.
How do I apply for Flexiti?
Click 'Apply Now' to go to Flexiti's quick and easy online application.
How do I pay with Flexiti?
Online: During checkout, select Flexiti as your payment method. You'll be prompted to apply for Flexiti or enter your existing Flexiti account number. From there, select your financing plan and complete your purchase. In-store: Talk to a sales representative to apply and make purchases with Flexiti.
How do I manage my account?
Visit my.flexiti.com to register your account online. You'll be able to see your statements, balance, and transactions when your payments are due, and sign up for e- statements, and more.
Online banking: Sign in to your online banking account and add Flexiti (Flexiti Financial) as a bill payee using your 16-digit account number. By mail: Mail a cheque for your payment to Flexiti Financial Account Services, P.O. Box 340, Orangeville, ON, L9W 2Z7. Include your account number in the cheque's memo field to avoid delays.
How do I contact Flexiti?
Call 1-877-259-3745 Monday to Friday from 9 am to 11 pm EST or Saturday and Sunday from 9 am to 9 pm EST, or email service@flexiti.com
*O.A.C. Subject to the terms of the Flexiti Cardholder agreement.
Available plans depend on merchant and in-store or online shopping. Minimum purchase varies depending on the merchant. For deferred plans, the greater of 5% of the balance or $10 is due each month. Payment protection insurance premiums and taxes, if applicable, are billed monthly. Interest at the cardholder agreement annual interest rate (Account AIR) accrues during the promo period and will be charged if the balance is not paid in full by the promo expiry date. For equal monthly payment plans, your purchase is to be paid in equal monthly payments of principal and interest, plus payment protection insurance premiums, fees, and taxes, if applicable. If any payment is missed, the promotional offer may be canceled and upon cancellation, interest will be calculated at the cardholder agreement annual interest rate (Account AIR). An interest-free grace period of 21 days applies for new standard revolving purchases that appear on your account statement for the first time if the balance is paid in full by the payment due date. Initial Account AIR is disclosed upon approval, varies based on the cardholder's creditworthiness at the time of application. Current Account AIRs are 30.99%, 35% (max for Quebec residents), and 37.99%. Any balance at the end of the promo period bears interest at the Account AIR. Admin fees may apply depending on the merchant and will be financed with purchase; fee amounts are based on purchase amount and promo term length (excluding Quebec residents). An annual fee of $39.99 applies for residents of Quebec and $24.99 may apply for residents of other provinces. No payments deferred plans are not available for Quebec residents, however, other deferred interest promos are available. Conditional upon ID verification and on approved credit and valid email address required. Applications may be subject to a secondary, manual review. Promos and terms may be changed without notice. Financing
provided by Flexiti Financial. Flexiti, FlexitiCard, and Flexiti Financial are trademarks of Flexiti Financial Inc.
2 ways for your customers to pay
Offer more flexible payment options at checkout, in-store and online.
This pay later solution allows you to break up the cost of your purchase into 4 equal biweekly payments. All you'll need is a credit card.
4 interest-free biweekly payments for smaller purchases.
No Interest or fees
No impact on credit score
Monthly payments over 6 to 60 months for larger purchases.
Payment plans from 0% interest
No impact to credit score
Easy, automatic payments
How do I sign up for PayBright?
For all e-commerce transactions, our application is integrated into the checkout process on the retailer's website. Simply select PayBright as your payment method when you checkout and fill out our quick application for an instant decision. Also, check out how you can use PayBright in-store
Will there be a credit check for a Pay in 4 transactions?
We do an instant, soft credit check with a credit bureau for purchases made on a Pay in 4 plan, but don't worry, this won't impact your credit score!
What methods of payment can I use for a Pay in 4 plan?
For Pay in 4 purchases, you must use a credit card (Visa or MasterCard). Prepaid credit cards are not accepted.
Why do I have to wait before I can make another purchase with Pay in 4?
When you make a Pay in 4 purchase, we need to do a couple of checks. This can take up to 24 hours (most of the time it is shorter!) and during that time, we halt any other transactions.
Tip: Please note that you can make up to three Pay in 4 purchases with a particular retailer, at a given time.
When is my first payment due for a Pay in 4 plan?
Your first payment (1/4 of the purchase total) will be authorized on the day of your purchase. The remaining 3 payments begin biweekly following your first payment. You will be shown a breakdown of the payment amounts at checkout once you complete your purchase.
Note: An authorization may sometimes show on your card while we wait to confirm that everything is okay on your retailer's end. If you've waited more than 48 hours for your authorization to clear for a purchase and haven't received an order confirmation, please contact us here.
Does PayBright charge any interest or fees?
There may be interest and/or processing fees, depending on the retail partner. The cost of our payment plans ranges between 0% and 29.95% APR (Annual Percentage Rate). Contact the retailer directly or check their website to find out what plans are available.
Some of our plans include a small monthly processing fee with each payment. We don't charge any other service fees, prepayment fees, or hidden fees.
Your total cost of borrowing equals the total interest and processing fees that will be paid over the term of the loan. This amount will be lower if you've received a partial refund or made any extra payments toward your loan. We seek to have the highest standards of transparency so that charges are always fully clear to you. The exact APR/total cost of borrowing that applies
Where can I shop with my spending limit?
You can use PayBright at thousands of stores across Canada! Look for PayBright as a payment option at checkout at your favorite store, or directly select from thousands of retail partners when you apply on our website. To see stores that offer PayBright, check out our Shop Directory!
Tip: From time to time, your spending limit may be revised based on the information we receive. This can include your repayment history with PayBright. Your spending limit is exclusive to the retailer you submitted your application through. So you'll be required to fill out our short application when shopping at a different store.
Is there a minimum purchase amount?
Each retailer sets its minimum purchase amount. Typically, it's around $300.  For PayBright Pay in 4 purchases, we fund amounts as low as $50!
You must be the age of the majority of the province or territory you reside in and must have a valid history of credit in Canada.